Yeah, this is the fighting Trophy gym, lots of muscles n stuff, do you have the brain to beat this set of brawn?
Badge, Throphee badge

Rules:
The Fightign Gym Believes that one battle is not the way of the fist, there for, you will have to prove yourself by doing:
A Doubles Battle :
Wich will be with 6 pokemon, no level limit and wonder Launcher, you are allowed to use 2 psychic/flying/Ghost types, Switching is allowed for the challanger, 4 times per battle
A Singles battle
Same rules as above, only Switching is allowed full time
( and if you win and lsoe one ) A Rotation Battle, during the rotation battle switching is NOY allowed, also wonder launcher will be on, otherwise its all the same rules
uhm i think thats all, aside the obvious: No Legendaries Rule, and perhaps something else im forgetting x3 but yeah, enjoy
If you win 3 out of 3, you gain the badge, if you win 2 out of 3, you only get the badge if you actually had fun, yes people the HAVE FUN rule applies
if you lose both first rounds, then it is most likely i will find your efforts short comming and you will have to try again
Steel Elite





Gender

:


Posts

: 37


Dark Coins

: 455


Gym Badges

:


E4 Crests

:


Join date

: 2011-05-06


Age

: 28


Location

: The Kingdom of Holland



I'd like to rechallenge you if possible, I'll delete the other post later but I've transfered most of my level 100s pokemon from HG so that ends the 4th gen battles for me but I've done that for one reason... to defeat you and get that trophy badge
_______________________________
Spoiler:

Jack and Tim's Collaboration, The Letope Region's Map. Subject to change
Kaekage are collaborating a region and have 4 leaders completed and almost complete with leaders, no map or anything like that but he hasn't been on in a while. Can this collaboration be completed or will it remain uncompleted?
Black: 1377 6557 2923 Ace
White: 0132 1341 4837 Stacey (It has Ace in it)
DVR's 5th Gen: 4040 5570 5015
Diamond: 1584-3456-4527 Ace (Not for battling, just transfering to black now)
HeartGold: 3223-8056-3264 Ace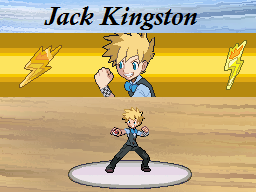 Team Magma Moderator





Gender

:


Posts

: 236


Dark Coins

: 483


Gym Badges

:


Join date

: 2011-03-15


Age

: 23


Location

: Flo-Rida



---
Permissions in this forum:
You
cannot
reply to topics in this forum